Hållbar student vid Högskolan i Borås arrangerar workshop i Do-tank Center
Black Friday is the busiest shopping day of the year, so is yours? We can help you out! Instead of being bored of buying things that you don't really need at the cost of people and planet: Join our Mending-Workshop and spend time repairing your own garments!

We offer you the chance to reconnect and discover an entire new side of the things that you already have. Hence, it is time for you to make something and get involved. Enhance your own skills together with us. Use the opportunity to ask questions and enlarge your knowledge about textiles at the same time during our Mending-Workshop.

Let's come together, get creative and have a cosy Fika:

DATE 29th November 21, 2019
TIME 5pm
PLACE Do-tank Center, Fashion Textile Centre, 2nd floor

Bring your own garments for the workshop and we will show you how to mend them. We will provide all sorts of materials.
Feel free to spread the word! Everyone is welcome, just come along.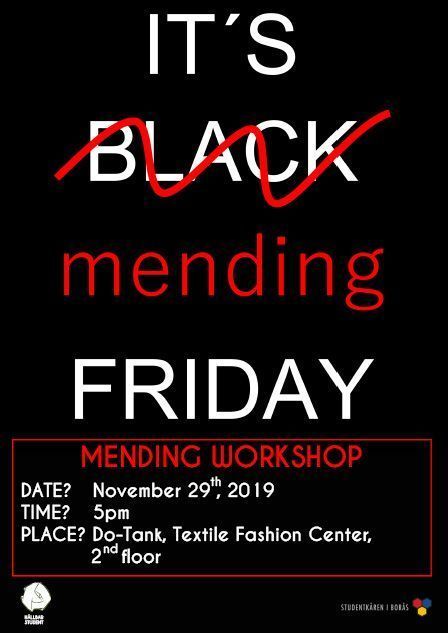 ---